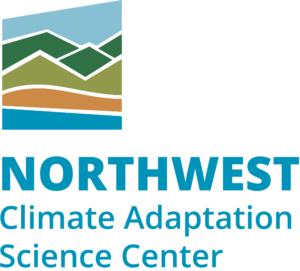 Special Opportunity
Overview
The Northwest and Southwest Climate Adaptation Science Centers (NW CASC, SW CASC) invite statements of interest for tribal climate adaption research projects to be initiated in Federal Fiscal Year (FY) 2021.
The NW CASC is seeking statements of interest for tribal climate adaptation research projects that focus on the following priorities, as identified and described in the NW CASC Science Agenda for 2018-2023: 1) management of aquatic resources, 2) management of at-risk species and habitats, 3) management of invasive species and diseases, 4) management of forest ecosystems, and 5) human dimensions of climate adaptation.
For SW CASC funding details, please see the full announcement.
Eligible Applicants
Federally recognized tribes listed in the current Federal Register and tribal organizations as defined at 25 U.S.C.
§5304(l) may submit statements of interest for this funding opportunity. Other entities (federal, state, or other) can partner with federally recognized tribes and/or tribal organizations and receive funds through subawards (see Funding Flow, below).
Eligible Geographies
Statements of interest submitted to the NW CASC should have geographic footprints within the states of Idaho, Oregon, Washington, and/or California (northern).
Project Funding Guidance
The NW CASC expects to initiate 2-3 new tribal climate adaptation research projects in FY 2021. Statements of interest should be for project up to 24 months in duration with a maximum of $200,000 per project.
Schedule for Submission, Review, and Awards
Deadline: Statements of Interest (SOI)……………………………………………….. Dec. 17, 2020
Deadline: Full Proposals…………………………………………………………………… Feb. 26, 2021
To download the call for S.O.I.'s visit: https://tinyurl.com/FY21-NWCASC-Tribal-SOI
http://atnitribes.org/climatechange/wp-content/uploads/2019/11/Funding_sm.png
111
92
Chas Jones
http://atnitribes.org/climatechange/wp-content/uploads/2017/11/ATNI-300x138.png
Chas Jones
2020-10-10 00:27:58
2020-10-10 00:32:58
NW CASC is accepting Letters of Interest for projects from Tribes